Jordan B Smith Jr  Ed. D.
 Jordan B Smith Jr - Patriotic Recognition, May 2017
​Dr. Jordan B Smith Jr was born in Saint Louis, Missouri.  He attended Lexington Elementary in Saint Louis, Missouri and graduated from Christian Brothers College Military Institute in 1972.  He attended the United States Naval Academy during 1972-1976 and graduated earning a Bachelor of Science in Mathematics in 1976.  He is a Marine Corps Veteran (Operation Desert Shield/ Desert Storm) achieving a final rank of Major.  Jordan B Smith Jr earned his Masters of Arts in Education in Secondary Education in 2006 and his Doctor of Education in Educational Leadership with a specialization in Curriculum and Instruction from the University of Phoenix in 2015. He earned a second Masters of Arts in Administration and Services Credential in 2018 as well.  He has been a public school mathematics teacher for 16 years and is presently a teacher in the San Jacinto Unified School District in California.  He is the author of Annapolis Creed and Facing Death Together (Amazon Books).  He is a public speaker and professional development instructor for the California Mathematics Council (CMC).  He is a reviewer of professional magazine articles and books for the National Council of Teachers of Mathematics (NCTM), and the National Council of Supervisors for Mathematics (NCSM). He is a performing artist (singer) and music producer (Amazon Music).  He was the first African-American to be named the Color Company Commander in the history of the United States Naval Academy (Annapolis Creed).
Life at the Annapolis (Extract from Annapolis Creed)

"It would have been impossible to predict what would happen during the next four years. I will share with you an insider's look and description entirely different from the scenes in the movie "Annapolis."  Honestly, this film was nothing like being a midshipman at Annapolis since it focused only on the Brigade boxing championship.  Being a midshipman at Annapolis for the majority of Black men in 1972-1976 presented many different challenges.  Annapolis had its own philosophy, climate, and culture.  Only after you've experienced the grueling rigors of Plebe Summer, and after you have faced the responsibility of leading other midshipmen and after you have thrown your hat into the air at graduation will you really know what the Naval Academy experience is all about.  Make no mistake: my four years at Annapolis were very challenging, firmly structured, and designed to drive myself well beyond my perceived limits.  I had lived in Saint Louis, Missouri my entire life.  I had never been on a road trip out of Missouri, and the trip to Annapolis by car was an experience.  So in June 1976 my dad, mom, and my brother drive to Annapolis.  I did not know it at the time, but the person who was really scared was my mom, but I did not know exactly why till much later. Maybe she already knew the history of the Naval Academy and the fate of the first six African American men who entered the gates of Annapolis. Five of the six would leave after resigning for undisclosed reasons falsely noted as academically deficient and one would graduate after 105 years" (Smith, 2017).

"I had never been to a military base before, and I got my first look at a United States Marine carrying a .45 caliber revolver as we approached the main gate.  There were no salutes just a quick checking of driver's license and a copy of my orders were viewed by the gate sentry. There were hundreds of people on the campus.  The first thing I noticed that the campus was surrounded by water.  I made no connection to the water and why swimming would determine how I spent my next six months due to an event scheduled for me the first day of training.  When we got out of the car, there were escorts dressed in the white Navy uniforms.  My dad loved everyone calling him "Sir."  In 1972 no African American was called "Sir" by someone who was white.  These Navy Midshipmen seemed like a replica of the Stepford Wives Club" but in uniform.  All the men in uniforms were built the same and wore their uniforms exactly the same way.  My dad had traveled nearly 840 miles and 13 hours to deliver a $600 check for my uniforms.  The rest of my education was paid for by the United States government and the sweat equity of my mind and body" (Smith, 2017).

More information on Amazon's Author Page:

Jordan B Smith Jr featured in Jet Magazine 1976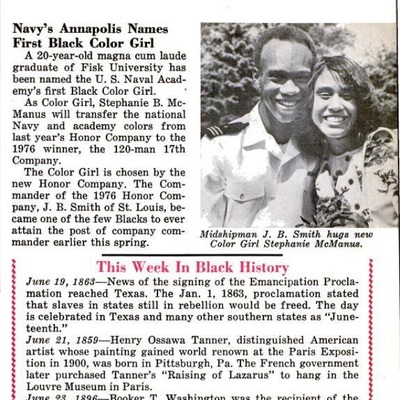 Jordan B Smith Jr is available on Amazon Music, Apple Music, Deezer, and Spotify