Amazon Alexa Skills
Amazon Alexa Skills are Essential 
Amazon Alexa skills are essentially apps for your Echo speaker that enable Amazon's voice assistant to do everything from get specific information, play games and connect smart home devices.
Just like your smartphone app store, the Alexa store is bustling with skills for recipes, kids, news, music and more.
Amazon Alexa Skills Makes Life Enjoyable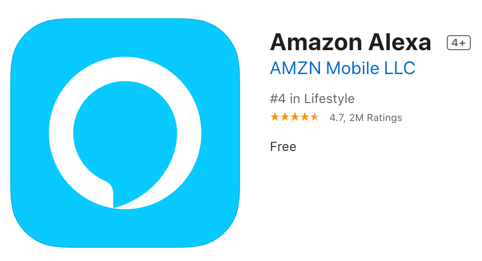 Whether it's turning on your Nest smart thermostat up,  Ecobee+ Smart thermostat,  or controlling your Philips Hue lights or your Sonos speakers, skills enable your Amazon Echo do to pretty much everything using an Amazon Alexa Skill for a compatible device..
And skills work across the board. Whether you have the Amazon Echo, Echo Show or even the Echo Dot, the same skills are available.
Head to the the Alexa Skills Store for a full run down, but below are our top picks.
5 Amazon Alexa skills Recommendation
Spotify - Request music with your voice and now access podcasts and play them via your Alexa speaker.
Amazon Story Time - One for those with kids, have Alexa read a bedtime story.
Ambient Sounds - Fall asleep with the sound of the sea/forest/New York city streets for background.
Todoist - Quickly add items to your to-do list and get a read out of everything that's on your daily agenda.
Xbox - Power on/off, open games and even record a moment.
Allrecipes - Get recipes with instructions on your Echo Show screen-based Alexa smart speaker.
Twenty Questions - Not all Alexa games are fun - but twenty questions works seamlessly. As much fun as you can have with an AI assistant.
Amazon Alexa Smart Home Skills
If you've got an Echo, chances are it's not the only smart device populating your home. It's the most sociable though, and it's using this chatty nature to strike up conversations with the rest of your connected tech.

The result is an all-round smarter home controlled simply by your voice. These are the best Amazon Echo Skills for creating a truly connected home.
Amazon Alexa Skills for Ring Home Security Devices
Want to see who's at your front door but have your hands full and can't grab your smartphone? Enter the Ring skill for Echo Show, which'll give you a live feed of who is (or isn't) at your door, assuming you have a Ring setup in place of course.
To enable: Install from Alexa app and link account or visit the Alexa Skills Store
Top command: "Alexa, show my doorbell"
Amazon Alexa Skills for Philips Hue
It's time to get precise with your voice-controlled lighting. Philips Hue and Alexa play nicely together, meaning you can say things like "Alexa, dim the living room lights to 20%" from the comfort of your favourite chair.

To enable: Install via Alexa app, link accounts
Try: "Alexa, set bedroom to red" or visit the Alexa Skills Store