Alexa Skills for Visually Impaired
Alexa Skills for Visually Impaired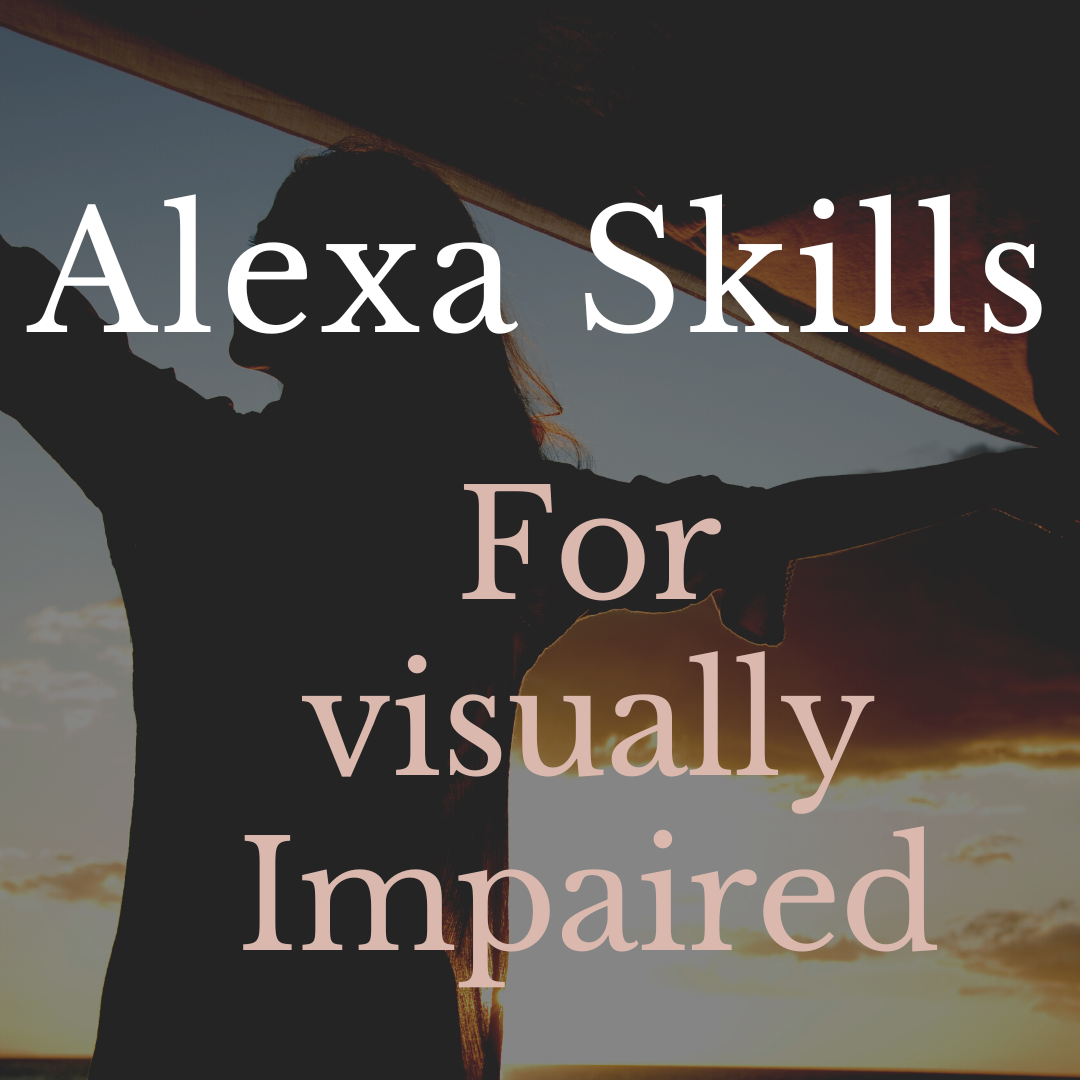 Alexa Skills for Visually Impaired
 Do you have an Amazon Echo, Echo Dot, or Echo Show? Do you wonder what to use it for besides asking the time or temperature and setting a timer? Did you know there are skills that you can enable that are specifically for the blind and low-vision community? Today I will introduce you to some Alexa skills that you might enjoy.
 On this page you will find some examples of Alexa Skills for the Visually Impaired.
"Blind Technology Trivia" by Jonathan Mosen - Alexa quizzes you on blindness technology trivia. Play on your own or with up to 4 players. See how high you can score. Three wrong questions and you're out.
•    Invocation Name: blind technology trivia
•    Free to enable
"O and M Trivia" by APH – This is a fun way to learn and reinforce orientation and mobility knowledge for people of all ages! Cardinal directions, cane techniques, and landmarks are just a few topics covered in the game. Users can play alone or with up to three additional players. Scores are calculated automatically for friendly competition. Game settings also allow users to select appropriate difficulty levels.
•    Invocation Name: o. m. Trivia
•    Free to enable
"The Braille Challenge" by iAccessibility - The Braille challenge is designed to educate those interested in braille by asking questions to test the user's knowledge of the English Braille code. Braille is the primary literary media. That allows people who are blind and visually impaired to read and communicate with others. Braille replaces printed text with raised dots on paper so blind users can feel what is written on the page.
•    Invocation Name: the braille challenge
•    Free to enable
Some of the best Alexa Skills for Visually Impaired
"Braille Dots" by iAccessibility - Alexa will ask you questions about braille. Try to get the correct answers in a single-player or multi-player game. You will have questions on braille's history, the alphabet's dot positions, and what specific contractions mean.
•    Invocation Name: braille dots
•    Free to enable
"NFB-NEWSLINE" by National Federation of the Blind of Maryland - NFB-NEWSLINE® is a free service available to anyone who is blind, has low vision, or is print-disabled. To use this skill, you must be an NFB-NEWSLINE® subscriber with valid identification and security code. To learn more about NFB-NEWSLINE® and how you can sign up, visit www.nfbnewsline.org.
•    Invocation Name: national federation
•    Free to enable
"ACB Media" - Home for all things media related for the American Council of the Blind across multiple streams.
•    Invocation Name: a. c. b. media
•    Free to enable
"Bookshare Reader" (Beta) by Benetech - To use this skill, you must be a Bookshare subscriber. Bookshare Reader lets you listen to audiobooks on any Alexa-enabled device. Read over a million books from the Bookshare library, including bestsellers, new releases, novels, nonfiction, educational books, and more. When you are done reading, Bookshare Reader remembers your spot for next time and lets you adjust the reading speed to be faster or slower. To learn about Bookshare and how we make reading more accessible for people with visual impairments, physical disabilities, and learning disabilities like dyslexia, visit www.bookshare.org.
•    Invocation Name: Bookshare reader
•    Free to enable
This is just a short list of the many Alexa skills for the visually impaired available on your Amazon Echo devices. Use your Amazon Alexa app, tap more, and then skills and games to find other skills.  At the top of the screen, there is a search area to help you find other Alexa skills to enable.  You can also use the Amazon.com website and search under the Alexa skills section. 
 If you have questions about enabling a skill or want more information about any of the skills mentioned above, please contact Laurie Westling at 701-795-2710 or lchaput@nd.gov or Tracy Wicken at 701-795-2720 or trwicken@nd.gov. 
Alexa Skills for the Visually Impaired Provides Accessibility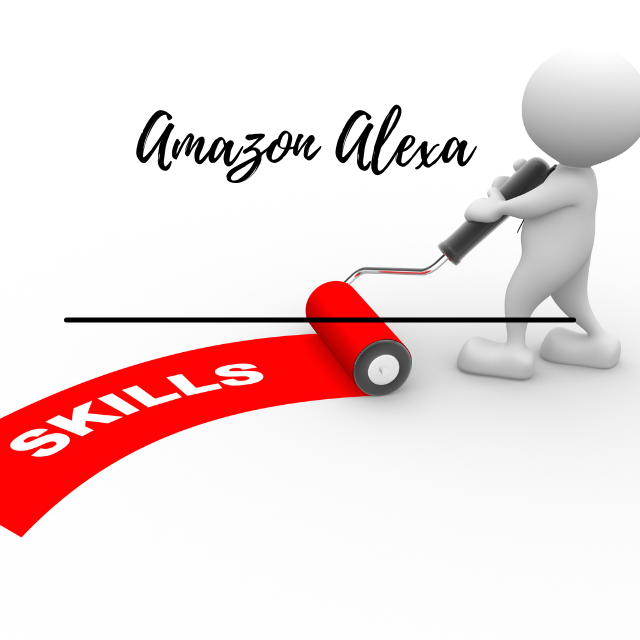 The Echo Dot provides Alexa Skills for Visually Impaired
It is worth noting that every Amazon Echo is fully accessible for people with a visual impairment, including the Amazon Echo Show and Amazon Echo Spot which both have screens. Amazon have thought of accessibility for these devices for people with a visual impairment as they developed a screen-reader called VoiceView, and also have other features such as a screen magnifier, colour inversion and colour correction. These accessibility features are built into the devices. There are also features for people with a hearing impairment.

I often see blind and visually impaired people asking questions about whether they think the Amazon Echo would be useful for them or a family member with a visual impairment and what they can be used for, so I thought I'd share some things that they can make a bit easier for blind and visually impaired people.

Accessible features for Alexa Skills for Visually Impaired
Finding out the date and time
It sounds like something so simple but asking Alexa the date and time is really useful, especially if you don't have a phone or similar device to hand.
Setting alarms and reminders
Adding things to your shopping list or to-do listChecking the weatherGetting the latest newsUsing smart plugs
When I was younger, I'd have a clock on my bedside table that I used to have to press various buttons in order to set an alarm to wake me up in the morning, then I moved onto setting alarms on my phone as it was much easier and a lot quicker.
Alexa makes setting alarms very quick and simple; you can even wake up to one of your favourite tunes.
In terms of reminders, I constantly used my phone and wrote them down in the notes or reminders apps, but with Alexa I can set reminders very quickly and she will announce them for me, I also get a notification on my phone so I never miss them.
You can ask Alexa to add items to your shopping list or to-do list, you can then access them when you're out shopping for example using the Alexa app. It's a great way of staying organised!
Most people check the weather on a phone app, but I find it a lot easier to ask Alexa what the current weather is. It's also great to do before you go out. She gives great detail such as telling you whether it's raining, cloudy or sunny, and is very accurate.
You can set up your location on the Alexa app. If you want the weather first thing on a morning, then you can set up routines and she'll read it out loud as part of a list of actions.
Alexa has a range of skills for this, it means that you are able to get the news just with one simple command and stay up to date with what's going on in the world.
I recently got an Amazon Smart Plug and let me tell you, it's fantastic! I'd been debating whether to purchase one or not for a while as I didn't know if I'd use it and what I'd use it for, but now that I have one, I'm planning on purchasing some more!
I find it an essential and very useful accessibility feature.
Smart plugs enable you to operate anything that runs on electric with Alexa. I have my plug connected to my straighteners and it's great just being able to tell Alexa to turn them on or off.
One of the things that I really like about some Smart Plugs is that they make a clicking sound when being turned on/off which is really helpful for me as someone with no useful vision. I can't say whether all smart plugs do this but some certainly do, it is a feature that is very helpful.